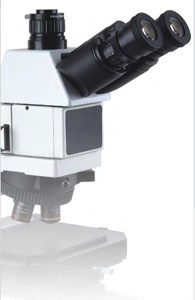 Big moving range plate
4''/6'' stage, suitable for the use of water or FPD inspection, as well as small size sample of array inspection.
MIS-4R/MIS-4RT: 4'' stage, moving range: 105x105mm
MIS-6R/MIS-6RT: 6'' stage, reflection illumination moving range: 158x158mm, transmission illumination moving range: 100x100mm, which clutch handle for fast moving.
All kinds of MIS serials stages can be replaced with each other via using the stage adapter.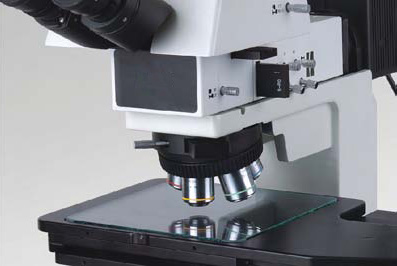 High performance nosepiece
Precisioin bearing design for nosepiece, confortable and positioning accurate, good concentricity, different kind of nosepiece for option.
PI103C51: quintuple bright field nosepiece, with DIC prism slot for MIS-4R/MIS-4RT
PI103C5BDI: quintuple bright/dark field nosepiece, with DIC prism slot for MIS-6R/MIS-6RT
Wide field of view gemel trinocular head
MISETH25R erect gemel trinocular head, same direction and same moving direction for objective and image, easy to view and operate, match 6'' stage.
MIS4RTH30R gemel trinocular head, match 4'' stage.
MISETH25R and MIS4RTH30R can be in common use for MIS serials.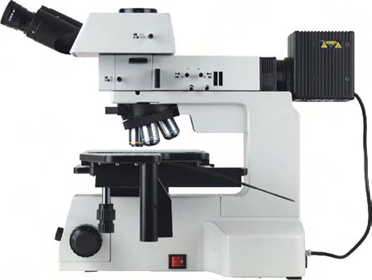 Safety, steady body construction
Industrial detection level microscope body, low center of gravity, high rigidity, high metal body, can improve the shake proof and image stability.
Pre-posed low position coaxial coarse and fine focus system, build in 90-240V wide voltage. Perfect cooking system for long time use without overheating.
Different illumination for option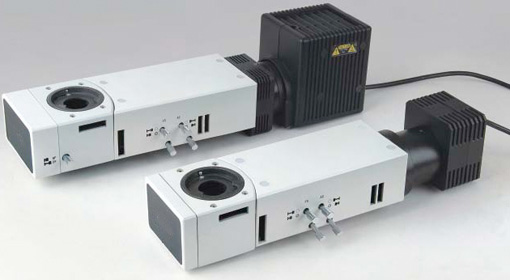 Different illumination for option
Bright filed reflect illumination: single 5W white LED, with oblique illumination, for MIS-4R/MIS-4RT
Bright field reflect illumination: 12V/100W, for MIS-4R/MIS-4RT
Bright/dark field reflection illumination: 12V/100W halogen illumination, with intensity of light preset, can transfer to preset light intensity immediately, with switching mechanism for bright field and dark field for MIS-6R/MIS-6RT.
Transmission illumination: MIS serials can with both reflection and transmission illumination, transmission bulb is single 5W white LED, with N.A. 0.5 condenser.
Transmission and reflection illumination can be operated separately or work together.
Bright field observation(reflected illumination)
Kohler reflected illumination, infinite plan achromatic long working distance metallurgical objectives ensure image clearance, flat and sharp form low to high magnification.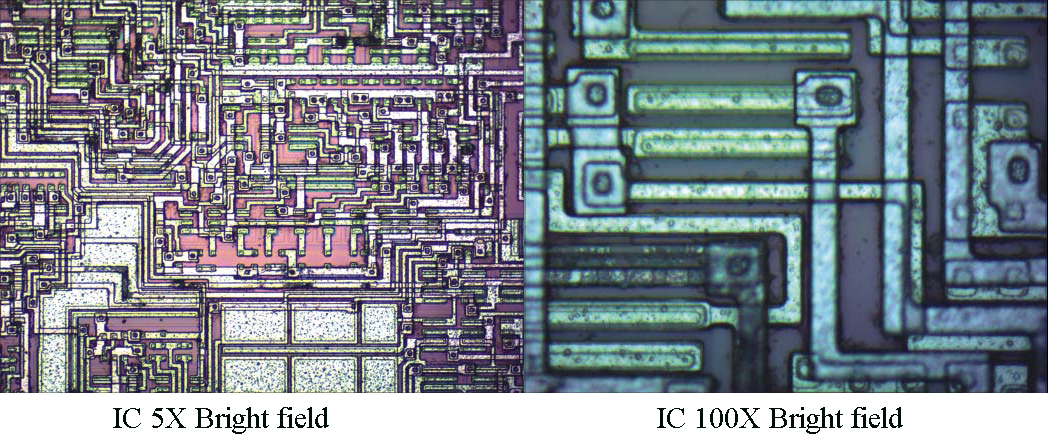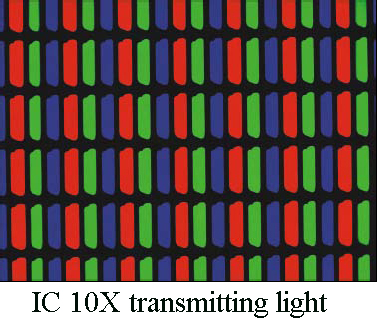 Bright field observation (transmitted illumination)
5W high power LED, N.A. 0.5 condenser, observe LCD, edge of parts under transmitted illumination. Separate control of transmitted and reflected illumination, can work both or single.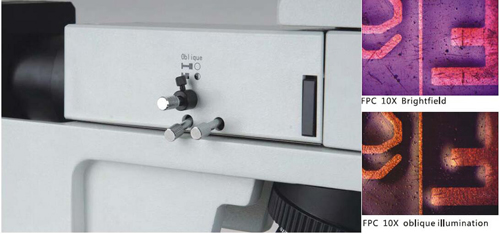 Oblique illumination
Use oblique illumination, different materials of the sample surface can show stereoscopic image, it can increase the contrast and visual effect of observation. The oblique illumination only use for MIS-4R/MIS-4RT
Dark filed observation
MIS-6R/MIS-6RT with dark field observation function. Pull the transfer stick to dark field position to observe scratch, impurity dot and other small defect of the sample surface.
Simple polarizing observation
Insert polarizer and analyzer to suitable position of illuminator for polarizing observation. Fixed type and 360°rotation type analyzer for option.

DIC observation
Based on orthogonality polarizing, insert Nomarski DIC prism to match DIC observation. Use DIC technology can show obvious emboss for the small high flow difference, increase the image contrast. 5X, 10X, 20X are specially designed for DIC, insure the interference colors same of the whole field of view, perfect differential interference result. As well as high magnification.
Photo and video accessories
Trinocular head comes with video accessories, user can get the image from monitor or computer, to do the image analysis, processing, save or transmitting. Use special C-mount and relay lens, connect with digital camera to take photos and catch images.
Various interference filters for option
Use 12V100W halogen illumination, choose LBD sunlight filter, to get soft bright and white background. In industrial use, choose other filter to adjust the light spectrum to get the best image result.

MIS-6R Specification:
Model
MIS-6R
MIS-6R T
Alternative method of observation
Bright field/Dark field/polarizing/DIC
Bright field/Dark field/polarizing/DIC/Transmission light
Optical system
Infinity color corrected optical system
Eyepiece
High eyepoint plan eyepiece PL10X/22
objective
LMPL-BD infinity LWD metallurgical objective (both bright field and dark field available)
Viewing head
Erect image, 25°gemel trinocular, reflect rate,binocular:trinocular =100:0or0:100
Nosepiece
Reversed quintuple nosepiece, both bright field and dark field available ,with DIC slot
Reversed quintuple nosepiece, both bright field and dark field available
Stage
6"three layer mechanical stage, moving range158x 158mm,glass stage, right hand position X、Y moving wheel with clutch handle, can be moved fast
6" three layer mechanical stage, reflected moving range 158x 158mm,Transmission moving range:100x100mm,glass stage, right hand position X、Y moving wheel with clutch handle, can be moved fast
Body
Coaxial coarse and fine focus system, Coarse adjustment range 33 mm;precision of fine adjustment:0.001mm,,with coarse adjustment stop and tightness adjustment。Built-in  wide voltage 90V-240V, single power supply output
Coaxial coarse and fine focus system, Coarse adjustment range 33 mm;precision of fine adjustment:0.001mm,,with coarse adjustment stop and tightness adjustment。Built-in  wide voltage 90V-240V, dual power supply output
Reflective illumination System
With iris diaphragm and aperture diaphragm, both centers adjustable, with filter slot and polarizing device slot, switch rod with oblique lighting.12V100W halogen bulb, light intensity continuously adjustable
Transmission illumination system
/
Single high-power 5W LED, white, light intensity continuously adjustable. N.A.0.5 condenser with iris aperture diaphragm