MIC-FM microscope can offer two camera or TV mount according to customer's different application.
ICS optical design for the image output.
High thermal and mechanical stability
Ergonomic design, tilting head, instrument specification LCD touch screen or can connected to  TFT screen, easy to get outcome.
Eyepiece WF10X/23MM
Light control, reflecting controller
־ six points motor-driven digital nonspiece.
־ 8 points motor-driven digital fluorescence turret (can be fixed or taken out)
־five points filter wave length turret
־five points motor-driven digital zoom turret
־ motor-driven aperture diaphragm and motor-driven filed grating
־ HAL 100, HBO100, HBO 50 illumination
־ all functions of microscope is motor-driven (Z1)
Compatible list
Motor-driven   2. Coding system can be read by computer   3. LCD display
CAN    5. RS232    6. USB    7. Out fixed shutter mount   8. Shutter trigger mount
Optical management   10. Observation method management
Motor-driven, stepper motor driven (Z axis 50nm) Stage X ,Y axis stepper motor driven (XY axis 10-0.2μ,press button to focus automatically. )
Automatic identification system nosepiece
Automatic identification system reflecting light turret
Automatic identification system zoom turret
Automatic identification system filter turret
System optical scheme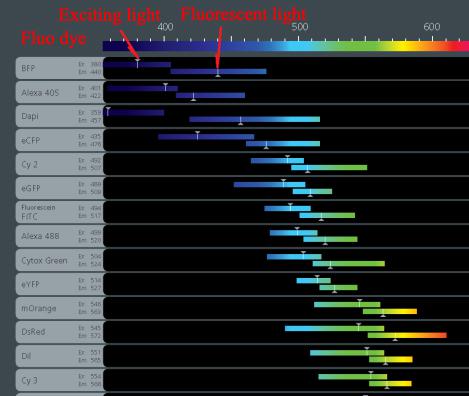 Filter module

number

Exciter
Exciter range
Dichroic splitter
Cut filter
A

D

E4

H3

I3

K3

L4

M2

N2.1

TX

G/R

B/G/R

UV-light

UV-purple light

Blue light

Blue light

Blue light

Blue light

Blue light

Green light

Green light

Green light

Blue Green light

UV/blue/green light

BP340-380

BP355-425

BP400-450

BP420-490

BP450-490

BP470-490

BP450-490

BP546/14

BP515-560

BP530-595

BP490/20

BP575/30

BP400/20

BP495/15

BP570/30

RKP400

RKP455

RKP455

RKP510

RKP510

RKP510

RKP510

RKP580

RKP580

RKP600

RKP505

RKP600

RKP415

RKP510

RKP590

LP425

LP470

LP470

LP515

LP515

LP515

BP515-560

LP590

LP590

LP615

BP525/20

BP635/40

BP530/30

BP640/40

BP610/75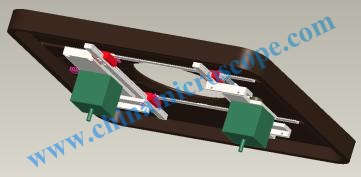 Z-drive spec Description
Blacklash <0.2μm
Coarse adjustment torque: 10Ncm+/-1Ncm
Fine adjustment torque: 0.7Ncm+/-(0 ~0.2)Ncm
Locking force: 5N+2N
descending speed: <0.5μm /2min @ 2kg weights
Focusing bounce-back<3μm @ 2.5N
Focusing range: 11mm+/-1mm
Focusing toruqe: 110N-120N
Resolution:0.002mm
Stage Description
flatness≤0.05mm @ 120*50mm, for other area ≤0.1mm
XY knobs torque in X-direction 1.2+/-0.3Ncm, torque in Y-direction 1.5-1.8Ncm
Travel range: 76*52mm min for limit stop, 76*63mm min for no limit stop
Travel parallelism: E/W≤0.026mm @ 40mm, N/S≤0.013mm @20mm
Distance between slide and stage during travel: -0.1~+0.1mm
Rotating angle: total angle 115°+/-2°, clockwise 110°+/-1°counterclockwise: 5°+/-1 for rotatable stage
Focus fluctuation: 0.020mm max. when rotating for rotatable stage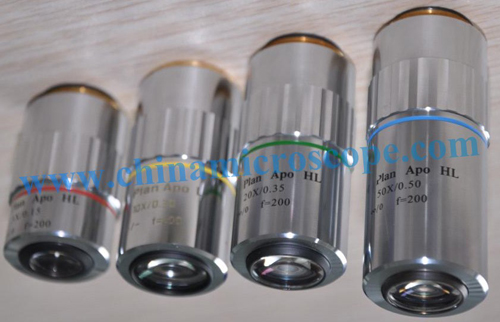 M plan Apo f=200/∞ 95mm
5X N.A=0.15

Focal length,f'(mm)=40mm

Resolving Power R(um)=2.3

Depth of Focus,±ΔP(um)=15

Working Distance W.D.(mm)=44

FN Eyepiece,Φ24(mm)=4.8

FN 2/3″CCD V×H(mm)=1.76×1.32

FN 1/2″CCD V×H(mm)=1.28×0.96

10X N.A=0.3

Focal length,f'(mm)=20mm

Resolving Power R(um)=1

Depth of Focus,±ΔP(um)=3.5

Working Distance W.D.(mm)=34

FN Eyepiece,Φ24(mm)=2.4

FN 2/3″CCD V×H(mm)=0.88×0.66

FN 1/2″CCD V×H(mm)=0.64×0.48

20X N.A=0.35

Focal length,f'(mm)=10mm

Resolving Power R(um)=1

Depth of Focus,±ΔP(um)=3.5

Working Distance W.D.(mm)=29

FN Eyepiece,Φ24(mm)=1.2

FN 2/3″CCD V×H(mm)=0.44×0.33

FN 1/2″CCD V×H(mm)=0.32×0.24

50X N.A=0.5

Focal length,f'(mm)=4mm

Resolving Power R(um)=0.6

Depth of Focus,±ΔP(um)=1.1

Working Distance W.D.(mm)=17

FN Eyepiece,Φ24(mm)=0.48

FN 2/3″CCD V×H(mm)=0.176×0.132

FN 1/2″CCD V×H(mm)=0.128×0.096
Long Working Distance Plan Achromatic (Infinite)BD (Bright field/Dark field)
MIC-W8BD-5X M plan Achromatic 5X N.A=0.1 W.D=14.47mm F.N:Φ24 Cover glass thickness:–
MIC-W8BD-10X M plan Achromatic 10X N.A=0.25 W.D=16mm F.N:Φ24 Cover glass thickness:–
MIC-W8BD-20X M plan Achromatic 20X N.A=0.4 W.D=10.5mm F.N:Φ24 Cover glass thickness:0
MIC-W8BD-40X M plan Achromatic 40X N.A=0.6   W.D=5.4mm F.N:Φ24   Cover glass thickness:0
MIC-W8BD-50X M plan Achromatic 50X N.A=0.55  W.D=5.1mm F.N:Φ24   Cover glass thickness:0
MIC-W8BD-100X M plan Achromatic100X N.A=0.8   W.D=3.01mm F.N:Φ24   Cover glass thickness:0

Long Working Distance Metallurgical Plan Achromatic (Infinite)
MIC-W8-5X M plan Achromatic 5X N.A=0.15  W.D=14.47mm F.N:Φ24   Cover glass thickness:–
MIC-W8-10X M plan Achromatic 10X N.A=0.25  W.D=16mm F.N:Φ24   Cover glass thickness:–
MIC-W8-20X M plan Achromatic 20X N.A=0.4   W.D=10.5mm F.N:Φ24   Cover glass thickness:0
MIC-W8-40X M plan Achromatic  40X N.A=0.6    W.D=5.4mm F.N:Φ24   Cover glass thickness:0
MIC-W8-50X M plan Achromatic  50X N.A=0.55   W.D=5.1mm F.N:Φ24   Cover glass thickness:0
MIC-W8-100X M plan Achromatic 100X N.A=0.8     W.D=3.01mm F.N:Φ24   Cover glass thickness:0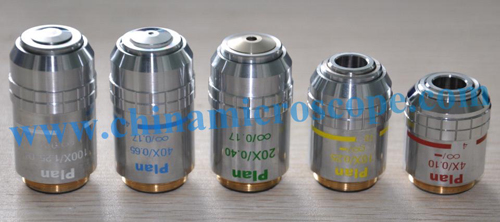 Biological Plan Achromatic (Infinite)
MIC-W3-4X Plan Achromatic 4X N.A=0.1  W.D=29.4mm   Depth of field:115 F.N:Φ24   Cover glass thickness:–
MIC-W3-10X Plan Achromatic 10X N.A=0.25  W.D=16.0mm   Depth of field:18.4 F.N:Φ24   Cover glass thickness:–
MIC-W3-20X Plan Achromatic 20X N.A=0.40  W.D=3.0mm    Depth of field:6 F.N:Φ24   Cover glass thickness:0.17
MIC-W3-40X Plan Achromatic40X N.A=0.65  W.D=0.63mm   Depth of field:2 F.N:Φ24   Cover glass thickness:0.17
MIC-W3-100X Plan Achromatic 100X N.A=1.25(oil)  W.D=0.35mm   Depth of field:0.7 F.N:Φ24   Cover glass thickness:0.17
Polarizer specification
Polarization direction: 0/-0.5°
Repeatability of polarization direction: <0.5°
Analyzer spec
Polarization direction: 90°+/-0.5°
Repeatability of polarization direction: <0.3°
Adjusting range: 180°+/-0.5°
Image fluctuation when installation: TBC
Image fluctuation when rotation≤0.2mm
Type
Specification
Overall

spec

Functional

spec

Application level
Research-level
Objective function
Plan&achromatic, oil
Contrast method
Dark,bright,FL, DIC,Pol,PH
Illumination function
TI,II,LED
Observe function
Wide FOV
Stage function
Auto Controls
Focusing function
Auto focusing-drive, coarse and fine
Assistant function
CDA
Extendable function
Camera compatible
Performance

spec

Objective

performance

PLAN 4X NA=0.10;10X,NA=0.25;

20X,NA=0.40 N

PLAN 40X,NA=0.65;100X,NA=1.25 oil

Illumination

performance

CL/PH 0.9 1.25 oil CLP/PH 0.85 ,LED 4500K
Observe performance
Eyepiece: 10X/20,10X/22
Stage performance
X direction≥60 mm;Y direction≥60 mm
Focusing

performance

Distinguish ability: 0.0005-0.00005 mm,

Adjusting range: 10mm

Life time
10 years
Other
TBC
Component

spec

Major optical

system

Objective
Condenser
Illumination
LED
Eyepiece
Mechanical

system

Stage
Stand
Z-drive
Objective turret
Camera module
Incident

illumination

module

Industry axis
Polarization axis
Florescent axis
Electric system                                             TBC
Software system                                             TBC
Accessories